There's a leafleting campaign starting in Ireland. You can help by spreading the word. Or maybe spreading the leaflet. Info below (copied from RIPcounties.ie)
---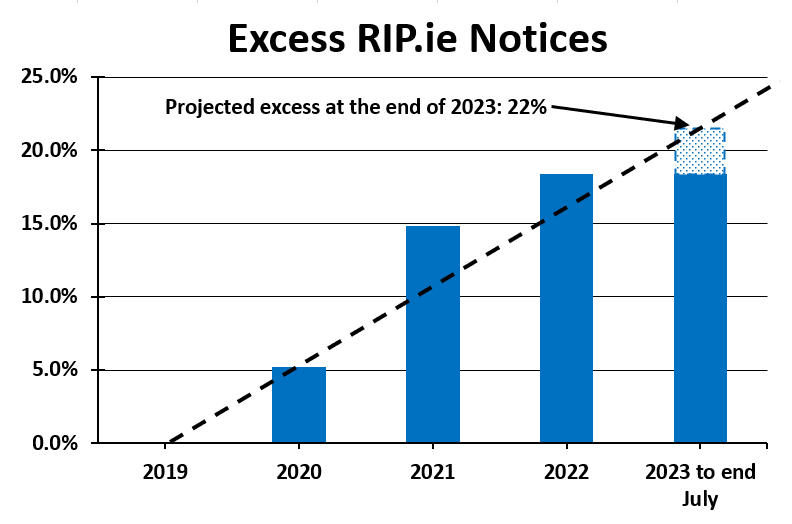 Speaking in Dáil Éireann on July 11th, An Taoiseach Leo Varadkar dismissed excess deaths as an issue of concern – despite previously acknowledging in February there had been an increase (see videos here).
So it is good to see this new group using official General Register Office (GRO) and RIP.ie data to determine, in near real-time, the amount of excess deaths occurring in Ireland.
We hope you will spread the word about them – and print and share their leaflet. It is designed for home printing in either A4 single-sided or A5 double-sided format.
Their launch statement:
---
A Message Of Concern For Ireland
Who Are We?
We are a collective, united by our shared concern for the well-being of our communities and by our interest in statistics. Free from political or corporate affiliations, our sole purpose is the pursuit of truth, especially concerning public health data.
Why This Initiative?
From the start of 2021, many of us began to notice more deaths than usual within our personal circles. Yet, without up-to-date data from official channels like the General Register Office and Central Statistics Office, we could not be sure. So, to bridge this gap, we developed a method to analyze excess deaths using RIP.ie, a website which catalogues over 99% of Irish deaths.
Our Mission
To provide the Irish public with accurate information about excess deaths, hoping to encourage informed debate, discussion and conversation. We aim to empower people to seek transparency and comprehensive investigations into rising death rates.
How Can You Help?
• Distribute the leaflet: attached are PDF leaflets designed for both colour and black-and-white printing. They can be printed as A4 single-sided or A5 double-sided. Share them in your community, at your workplace and/or with family and friends. You can also use the PDFs to order copies from your printing shop.
• Be Considerate: many have faced trauma during these times. If distributing or talking about the leaflet, do so with care and gentleness. Allow people time to read, research and reach their own conclusions.
• Support The Cause: As well as distributing the leaflet, you can support by volunteering or contributing to printing and delivery costs. Contact us through www.IrelandExcessDeaths.com
Our goal is for each person in Ireland to be informed, engaged, and empowered to make a difference. We believe we can achieve this together.
More on: IrelandExcessDeaths.com | Twitter | Telegram | TikTok